Asian Noodles for my family, and they turned out pretty good. It feels a little bit scary actually starting to cook-- like now I really am growing up and getting ready to leave the house.
This is not the recipe I used.
Ginger Cookies for Romans on the Roof, since I forgot to bake a snack the last two weeks and my girls weren't thrilled. I've been slacking, and I almost did today, too. But-- the cookies are in the oven, and this time I have a timer set so that they will not burn!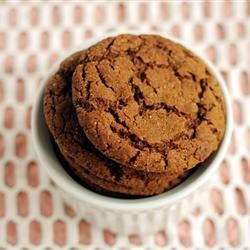 This is also not the recipe I used.
I also made an Orange Frosty, which was really delicious and refreshing and I think it will be a drink I'll remake in the future. Yay for smoothies and oranges and sugar!
This is still not the recipe I used. But you can use it if you want. :D
Hm, what else shall I blogger you guys about?
We went to youth group with the new church we've been going to, Casa De Fe, and I think it's looking like we'll stay with this church. (We've been church hunting since we got back to Mexico this summer, and it's nice to finally just have somewhere we know we'll attend instead of Sunday morning panic because we don't know where to go to church.)
The youth group was pretty good. We went to a coffee shop and I had a DELICIOUS Chai Frappe. Then we talked a little bit about vanity, but more just asked questions about who was the most vain in the group. And then we played Never Have I Ever, and I lost continuously. Apparently there aren't a lot of things I have never done.
Never have I ever owned a pet cat.

Ugh. I do not like cats!
Never have I ever gone to the same school for more than three years.
Never have I ever been skydiving.
(But I will; I promise you I will someday.)
So yeah-- and Saturday was another long day of garage sale-ing. And super awful tired all day long. And cramps-- terrible cramps all day long.
And a lot of reading; I have done so much reading this weekend, and on a lot of different books. (Check out my Pages and More Pages for a complete and updated list of what books I am currently reading.)
Okay, okay, my ramble is done.